As we confront different situations in life, what if we used the tools of awe and wonder? Kindness and compassion? Giving yourself permission to care for yourself is huge but it doesn't have to be extravagant. It can be simple enjoyments and wonder-building moments that allow us to settle, breathe, and observe.
Being kind to yourself is a key learning. Having compassion and learning to quiet the inner critic is a transformative process that allows for more ease when taking responsibility and making room for change.
Deep care is not always a happy-go-lucky street. It takes time and practice to stand up for your needs, to allow small moments, or create schedules for things that support your being.
My friend, my invitation to you this week is to use the emotion of "awe" and "wonder" as you care for yourself. Give yourself permission to care in a way that truly honors your whole being.
This week, I share various methods and activities for caring for yourself. Caring deeply looks different for everyone. It can be spending time in nature, exploring, having a quiet moment with a book, play, rest, or even saying "no." As we build our ability to listen and treat ourselves well, we build momentum in all areas of life.
Do you want to be the leader of your life? Apply for 1:1 coaching with me! When you work with me, you will learn how to create success and fulfillment on your own terms, fully show up in your life, create a life aligned with your values, strengths and priorities, and become your own best friend. You dream it, and together we'll make it possible. Click here to get started.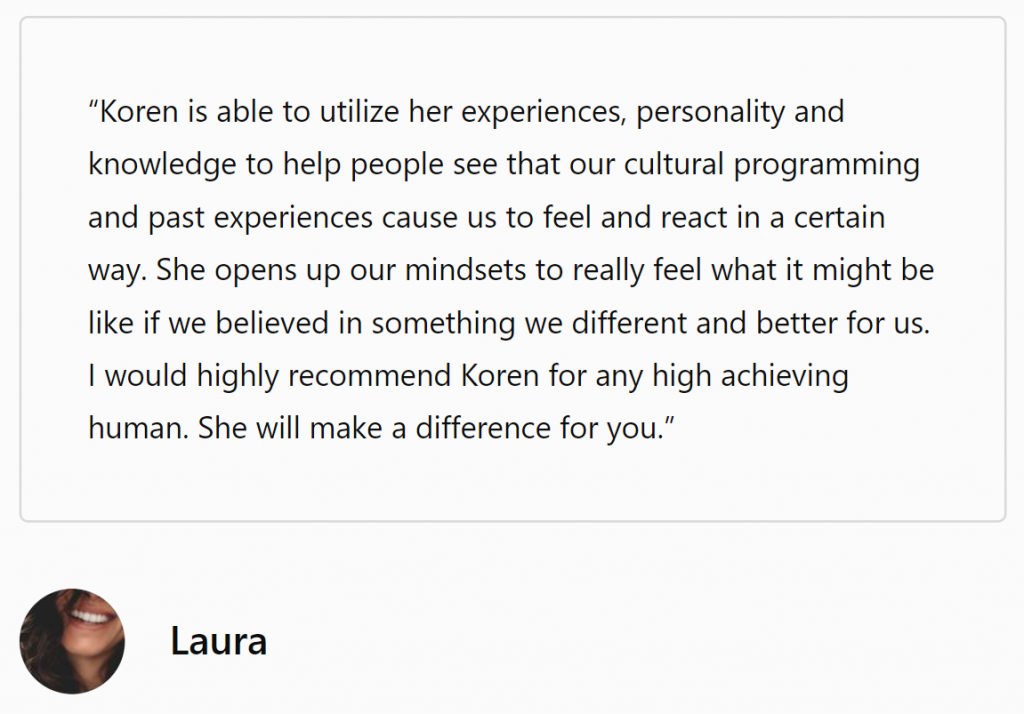 LISTEN HERE
WHAT YOU WILL DISCOVER
What an emotion list is and how to grow it.
The definition of Awe and Wonder.
How to care deeply for yourself.
The power of asking for what you need.
Beliefs that keep you from caring for yourself.
How to identify your obstacles.
RESOURCES FOR YOU
EPISODE TRANSCRIPT
Music: …rowboat on a lake, she is dreaming, she is drifting, never been so wide awake, captured in the moment by the beauty all around her, there's nowhere else than she would rather be…
Koren (00:00:19) – Hello and welcome. This is Koren Motekaitis and you're listening to How She Really Does It, the place where inspiration and possibility meet. One of the things that I've been including this year in some of the podcasts, not every episode, but in some of the podcasts, is to bring up emotions and words and define them here. So to help you expand or grow – we'll say cultivate – your emotions vocabulary. The words that we use really matter. I talk about that here a lot. Our emotions are part of our mindset and we have thoughts, we have stories, right? Which then help us dial up our feeling states and being able to understand them and identify. When I'm coaching clients, I'm often asking how they're feeling. And one of the things is that we all have a very limited emotions list. I've talked about this over and over again. I'm gonna continue to talk about it.
Koren (00:01:23) – We can grow it, we can learn more. We can expand a vocabulary which actually helps you see the invisible. It helps you connect with your body and what's going on, and to pay attention to things that may be okay or may not be okay, as well as helping you understand more in life, right? It's just another way to help you get clarity. It's not perfect, but to get this emotional language is gonna be really beneficial. So Atlas of the Heart is written by Brene Brown and I call it an encyclopedia. We're constantly opening it up with my clients, reviewing it, looking at it. A few weeks ago I had a client who went through a pretty traumatic event following a national traumatic event, and I was asking her how she was feeling and the words that came up were sad, right? She was sad, there was fear.
Koren (00:02:19) – And one of the things that I invited her to do after a session was to go back to Atlas and open up this chapter six and to take a look at those different words in the language. And at our next session, she's like, you know, Koren, the words that we use matter. And when I started reading the chapter, I started to cry. There's all these feelings that are underneath, right? And being able to give, one of the things is processing emotions can happen when we have the terminology in. Being able to develop emotional understandings allows us to be resilient. It's not more emotional. That's what we think's going to happen. And that's where we get afraid. But having that capacity to feel our feelings and release it so that we don't blow or it doesn't take us down. Even in Ted Lasso last night, there was some talk about that too, right?
Koren (00:03:12) – And so it's so, so important for us to understand our emotions. Not because of Ted Lasso, but I was just thinking about how we're getting this information out more and more in the world and it's coming across in different avenues. And so here it is. So today I wanted to talk about awe and wonder to kind of prep you as we go into this topic of do you dare to grant yourself permission to care deeply for yourself? And the reason for awe and wonder is its definitions. It's words for us to get more familiar with because we are so, you know, spent a lot of time talking about shame on the show, vulnerability, right? But why not talk about delightful feelings? And they can also be really scary too, right? To feel really good can be scary. So something that Rachel Carson wrote in The Sense of Wonder, and Brene shared it in Atlas on page 58, Rachel says, if I had influence with the good fairy who is supposed to preside over the christening of all children, I should ask that her gift to each child in the world be a sense of wonder.
Koren (00:04:21) – So indestructible that it would last throughout life as an unfailing antidote against the boredom and disenchantment of later years. The sterile preoccupation with things that are artificial, the alienation from the sources of our strength. I'm gonna go through the definitions of how Brene has it defined in the book. So she shares what researchers, Ulrich Weger and Johannes Wagemann explain: wonder inspires the wish to understand, awe, inspires the wish to let shine, to acknowledge and to unite. Think about that. Inspiring the wish to understand. That's wonder. Inspiring the wish to let shine, to acknowledge and to unite. That's awe. There's so much turmoil in the world and there's so much polarization. And families are struggling. Relationships are struggling, right? So many environments, there's struggle. And if we could bring wonder in awe as we work on solving problems, figuring things out, coming to solutions, right? How could that change us?
Koren (00:05:36) – How could that change the situation? How would we show up differently? They go on to say, when feeling awe, we tend to simply stand back and observe, to provide a stage for the phenomenon to shine in wonder fuels our passion for exploration and learning for curiosity and adventure. And my invitation for you today, as I go into talking about the permission to care deeply for yourself, my invitation is if you could come at it from a place of wonder and awe instead of, oh, well that won't work for me. Here's all the reasons why. And shutting it down and armoring up. So one of the things in this permission to care deeply for yourself, that's a compassion practice, right? Again, it's a tool that I've learned from Brene and I've used and integrated. It's in the daring way work, rising strong, the Dare to Lead work, right?
Koren (00:06:29) – It's in all the work that we do with my clients. And I got this permission to care deeply for myself because it was on a reflection from one of my clients this week of that was what she was committing to herself. And I was like, this is fantastic. The permission to care deeply for myself, whoa. That is huge, right? So many of us have been programmed to put ourselves last and to take care of everybody else and then with whatever we have left over to take care of ourselves. So permission slips are really important because part of it is, it's a compassion practice. Part of it is you granting permission to yourself, you being the leader of your life, instead of doing what other people tell you you're supposed to do. Instead of doing, you know, what you should do. What cultural programming, what your adult parents tell you to do, what your grandparents, what your boss.
Koren (00:07:29) – But it's about you giving yourself permission and it's also taking responsibility. It's so important that we give ourselves permission instead of waiting for what other people think, right? This is the – I haven't talked about in a long time, but approval, hoarding, oh, I need to do this because this is what somebody else wants me to do. Versus getting our own approval, being proud of ourselves. And then this idea of the permission to take care of ourselves and do it deeply is so important because we need to fill ourselves up. And for many of us, this also helps with the unlearning of doing what we're supposed to do or what we should do. And instead we're giving ourselves, like I said, agency and being the leader of our life. So my client who wrote this on a reflection to me the day of our session, you know, she's a leader, she's a mom and she's working on unlearning a lot of cultural programming, duty, working really hard, you know, grinding, putting herself last.
Koren (00:08:40) – So you may be asking like, okay, I, I get that, but what does caring deeply for myself look like? So I'm gonna give you some examples because some of you may have this obstacle of like, oh, caring deeply is, you know, it, it involves luxury and that's not possible with my budget or my time, right? Or it's this big thing and I don't even have time to do that, nor do I have the brain juice to be able to even figure this out. So I'm gonna give you some ideas, some examples so that you can go and create your own idea baby. And as I was coaching a client today, it is okay, give yourself permission to take any of these ideas here. If they light you up and you're like, wow, and go and use them. You don't have to create your own unique thing, right?
Koren (00:09:24) – We get inspired by others, by what we hear, by what we see, by what it is that they do. It's not stealing, right? It's about getting inspired by somebody else's point of view. We may not have the words for it, but then when we hear it, we see it or we're going, oh that's allowed. Or Oh, that counts as well. So here are some examples of what it looks like when you give yourself permission to care deeply for yourself, going on a walk, right? That's free. It takes some time going on a walk. Maybe. I like to think about when my kids were really little. I remember that. And this is how I met my friend Trudy who has been on my show. She helped me celebrate the 16th anniversary. And remember I knew her from preschool, but I remember that day when I like really met her and our friendship really began.
Koren (00:10:17) – I was so delighted because I was going to the grocery store without any children, without anyone else. It was all by myself that was caring deeply for me with the given constraints that I had in my life, right? To be able to go there and to explore the grocery store. And what I recall is that I had a bit of space and time. It wasn't like I had only 20 minutes and had to get out like I had some space. And so to be able to do that by myself and to just hear my own brain and to be able to have a conversation with a parent and it was short cuz she had her kids there. So she had a very different experience than I did. But that can be caring deeply for yourself. It can be being outside. And one of the things I'm going to do today once I'm done recording these shows is I'm gonna go sit outside.
Koren (00:11:05) – I'm gonna read a book out on my picnic table outside and enjoy some vitamin D, sunlight, and read. That is something that is gonna be caring deeply for myself. Maybe you live in a place that still has snow and it's about going out into the snow. Maybe it's going skiing. One of my best friends lives up in Big Sky, Montana and she's been skiing a lot, right? And this week it's been fantastic not a whole lot of people have been in town or maybe it's like laying down in the snow and doing snow angels. If that is deeply caring for yourself, that is okay, that is for you. It would not be for me cuz my hands and feet are freezing as I do this show for you. It can be receiving the love and energy from your dog, right? And your dog comes over and wants to be pet or wants to sit with you and you can feel the love and the energy from your animal.
Koren (00:11:59) – It's a dog, a cat. Another way of caring deeply for yourself can be saying no to a meeting that's not necessary. And I realize you may say, Koren, I can't do that. It's so important to have discernment cuz we, not everyone in our workplaces, have discernment. One of my clients had a company send her a meeting request for two hours and it was to go through some of their software and this company supported her company in the software. And one of the coaching things that we did was, cuz she was like, I don't really wanna do this meeting, I don't have the bandwidth. You know, the last thing she wanted to do was put a two hour meeting on her calendar. So one is to ask for what she needs, is it possible to do the meeting in an hour? And if it's not and it's necessary to have two hours of a meeting, is it possible to do two one hour meetings?
Koren (00:12:55) – Cuz right now I don't have the capacity for a two hour meeting. That's the rumble. That's where it gets really, really uncomfortable, right? Because you're asking for what you want. You have cultural programming of who are you to do this. You can't, you can't be difficult, you can't be too much, you can't be a diva. Whatever those small beliefs in making you small, let that go and give yourself permission to ask for what you need. That is an example of caring deeply for yourself. Here's some other examples, and I'm giving you this list so that there may be something in here and maybe it's the exact thing or maybe you're like, oh, and you get an idea and a version for you that fits appropriately in your life. Some examples are sleeping, right? Being able to sleep. I have a client right now where the energy of her spouse is really, really hard.
Koren (00:13:49) – And so being able to ask for being able to sleep by herself, not because she's upset with our partner, but being able to have sleep. Again, that goes against cultural programming, right? Because if you really love this person, you're gonna wanna share a bed, you're gonna wanna share a room, but you have no space in your life. So that can be something. Another example can be journaling as a way of caring deeply for yourself. And maybe you're like another client of mine who's like, Koren, I have such resistance to journaling, but I always know I feel so much better afterwards. Okay? There's no need to argue, there's no need to shit on yourself. The big thing is the fact that she owned her story. And I think her journaling future's gonna be really bright. Not perfectly, not every day, but I do think there'll be more of a writing practice because she allowed herself to own it.
Koren (00:14:43) – So maybe that isn't yours for right now. Who knows what it will be in three months, a year, five years, 10 years. It can be sitting outside is caring deeply for yourself. Right now, Davis, California is fantastic in terms of being outside. We're in the spring, it's not really hot, hot, scorching hot. We've had a lot of rain, which has been unusual for us in California cuz we've always been in a drought for, I don't know, several years. So it's really quite delightful. It's really nice to be outside and to be a part of that and getting the energy and seeing the green and watching things blossom, right? So for you to take a look at your environment, it could be eating a meal outside. We had recently taken out our patio furniture and put it outside and you know, I often check in and go, is that where I want to eat?
Koren (00:15:34) – Whether it's my breakfast or my dinner. And a couple nights ago I went outside and I had dinner and I was really, really cold having the dinner. And so last night I chose not to. Cause I looked at it, there's a little bit of wind and I'm like, no, you know, as the weather gets warmer and I'm not as cold, I'll go outside and I'll eat out there or I'll have a cup of coffee. I did that last weekend. I made some coffee and I went and sat outside and sat on the bench and just enjoyed, again, these are free, like a lot of the stuff that I'm talking about are taking care of yourself. It doesn't take much time or doesn't take much money. Like my time for the coffee, it was about eight minutes or so. It wasn't this huge amount of time, but it allowed me to get settled with myself.
Koren (00:16:17) – I was connected with myself. I took in the environment. I wasn't on my phone. That's caring deeply. Notice none of these are, oh, answering emails or picking up my phone and seeing who I need to respond to. That's not caring deeply for myself. That's me. Maybe it is for you. It's not for me. Calling a friend can be caring deeply for yourself, right? That's something that I'm spending more time cultivating, especially being an empty nester, right? And especially putting more value on the relationships in my life where there were others in the last few years, it was so much about work and so much about supporting the people that I was responsible for, either as a leader or as their coach. And so now it's about, okay, now it's making sure that I take deep care for myself and making sure that I fill myself up because I got a bit depleted over the last few years.
Koren (00:17:14) – Another, and this is so, so, so important, caring deeply for oneself. It's about talking to yourself with kindness instead of that old critic's voice. I can't tell you how often in coaching sessions with clients, my clients get upset with themselves. Why didn't I see that sooner? I can't believe I didn't do this before. How come I didn't do this? I'm like, this is a key learning, right? You weren't ready, you may not have had the skill set, you may not have had the systems built up, right? Maybe you didn't have the courage that had grown to the place where you could ask for what you needed. And that's okay. You're learning now. And I realize I've had clients that say, Koren, compassion is weakness. My clients who are compassionate grow at a faster rate. Not that that's the be all end all right? But they do grow and change and it's so beautiful.
Koren (00:18:07) – Versus when they beat themselves up and they're so hard on themselves, it really interferes with their involvement. And that's okay. That's part of the learning. I get it. Sometimes we can't see, and we're so used to beating ourselves up, but talk to yourself with kindness instead of that old's critic's voice. It doesn't mean like the phrase that I don't like, maybe I'll change my mind in five years, but it's fine. It's fine. Like I feel like that's armored, right? It's about really owning, this is what I did. These are the choices I made. This is what worked. This is what didn't work. And unpacking that and being responsible for those choices instead of beating yourself up. It's like, wow. I mean that's like being a slow learner, I came up with that a long time ago, probably 15 years ago. Like, oh, I'm a slow learner, it wasn't a slam.
Koren (00:18:58) – It was like, oh, I can learn things quickly intellectually, but to really get it on my bones, it takes me time and giving myself permission that it's okay to be a slow learner, right? That's okay. And giving myself that space. So talking to yourself with kindness is so important to taking deep care of yourself, owning your part. Like I just mentioned, when you have a falling down moment and giving yourself grace, there's no sense in beating yourself up. It's not gonna help you move forward. The other part is when you get to that space where you can forgive yourself, and there's certain arenas, I'm really good about forgiving myself. There's certain areas where I'm really like in this rumbling and reckoning, right? And it's something that's just going on and there's key learnings and there's lots of feelings, there's anguish, right? There's despair, there's lots of feelings.
Koren (00:19:53) – And I'm working through those and that's okay. There's growth that's happening, right? Not every moment's gonna be this beautiful moment. So forgiving yourself in the arenas that you can and acknowledging the arenas that you can't for right now. Another example of caring deeply for oneself is putting lotion on your skin. 15 years ago, I would've thought, oh, caring deeply for myself is getting a manicure, a pedicure, or going to get a facial. I'm still not a big facial person, nor am I a manicure pedicure person. But putting lotion on my skin, especially as I've, you know, hit this age of 50 and my skin is changing, it is luxuriating to give myself that time to take care of myself and to say, Hey skin, you matter. I'm gonna take care of you today so that hopefully you feel better or that you'll, you'll be better prepared, you know, in the next 20 years because I've nourished you now.
Koren (00:20:51) – And it doesn't mean doing it perfectly every day. Another way of taking care of yourself is giving yourself time in the morning to have time to get the things you want done. So whether it's food or movement, coffee, we all know coffee's really big for me. This system is very much set up in my life to have coffee for a person who did not have time and couldn't do a whole lot of things. I learned the skill set very early on. And I have have had really complicated coffee routines that have taken up to like 15, 20 minutes to make a cup of coffee depending on which style, what, whether it's the arrow press or the pour over. I now have a special machine, so it's actually much quicker. But that coffee was the first practice of making time for myself in the morning. That wasn't an adrenaline rush or I must do this because I signed up for this exercise, or I have this trainer, or I have this friend.
Koren (00:21:50) – It's like, this is what support means for me. This is something that's delightful for me, in that I've been able to create a practice of making sure I have food. That way I'm well-nourished to serve my clients, to do my work. You know? Then the other practice that I've really been incorporating and I'm really delighted about is the movement. I'm back to lifting weights. I had stopped lifting weights for a while and I don't even know how long, but since December I've gone back to lifting weights and, and I do that in the morning. And here's the interesting thing, like by writing this down. So I wrote this podcast yesterday and I came up with these ideas and I have a really full day today and there was still some work, but my brain was fried last night. So I was done and I needed to get up early and I didn't know, like would I get up early or not?
Koren (00:22:38) – And I kid you not. I woke up at, you know, five o'clock in the morning, got up, did my exercise, I was ahead of the game. I'm really liking this being ahead. I have to be careful that I don't go into being perfect or highly, highly productive, right? Because then I can tap back into that adrenaline and I don't wanna do that. But giving myself time, I had a lot of time this morning to get the stuff that I needed to get done to take care of me and then to be ready to take care of those my clients and the people that I had commitments to. So another one that can be relatively free or inexpensive is doing puzzles. Like if that's deeply taking care of yourself, that's delightful, right? Allowing that space and that time and that soft focus and harsh, you know, soft focus as well as deep focus to happen.
Koren (00:23:29) – Going in and out, being in the real like in that little wiggly line moment and pulling out and seeing like the whole puzzle. Those are delightful. And I love to listen to audiobooks. I have a friend right now, he's had this uh, puzzle out since Hanukkah. His wife got it for him. And I was at their house the other day and it's been on pause and I'm so delighted cuz they have like a puzzle table right in this one room. And I was like, wow, how cool is that? And so I said, look, I'll come over and do it as long as, and I did say some conditions, I was like, as long as I don't have to do it perfectly or there's a timeline, right? And he's like, it's impossible. I'm like, ah, there's pieces. We'll put it together. Right? I'm willing to try, like that is a playground.
Koren (00:24:12) – It could be fun because I get to connect with my friends, I can listen to podcasts, right? There's lots of different things that I can do, but that is deeply taken care of me. My younger self would've been like, well what does that have to do with being a better coach or being a better professional or making money or being a better mother. It's taking care of me. And when I take care of me, what I've learned is I do a much better job of taking care of others. I used to think I needed to take care of others and then eventually find something for me and then get really pissed off because I was so exhausted. Paint by numbers. I haven't done that in a long time. But that is another example of deeply taking care of oneself. And I have a client who paints with friends, is in a painting class with a friend and loves to go and do that.
Koren (00:24:57) – And there's the connection, there's the outing to go and do that. There's the creative work, right? And then she displays it on her social media accounts and it's fun. Another way of deeply taking care of oneself is creating a space you love in your home for you, for no other person than for you. And you'd be like, ah, that's so selfish, Koren, I can never do that. We're talking a corner. Maybe it's your side of the bed and either putting on sheets that delight you, having your pillows be a certain way by creating a space for you in your home. Having a space that's there to support you, even amongst the chaos, the shit shows all of that stuff. What is that space that you can have? It could also be eating on a plate you enjoy. And really, there's some stuff I'm really deliberate about.
Koren (00:25:52) – Like there's some plates that I like to eat off of and I just like the way it looks. It brings me joy again. Like this one plate that I, it's not my most expensive plate. It's something that I actually got at World Market. I like it. It was different and I really like it. My husband doesn't like that plate. That is okay, he eats off the other plates. I really enjoy this. It is delightful for me. The other thing I do is I drink from my favorite coffee mugs, right? Or I drink from my favorite drinking receptacles. I spend a lot of time, you know, I love coffee, I drink water, you know, and I stand there when I make my coffee in the morning and I look at the different mugs and a lot of them have words. Most, I think they all have words on them.
Koren (00:26:35) – It's kind of my thing, right? And I think about like, what's the message that I want to remind myself of? I may not look at that mug again later in the day, but in that moment I made that decision, right? And it delights me. And so today's mug says be true, right? And that's interesting because like most of the mugs in the dishwasher right now, so it was be true or be strong. And I chose between those two. I have another mug that I have that I've given to a bunch of clients. I saw one of my clients drinking from it today. That one doesn't fit in my espresso machine. So I haven't used it as much. I have a workaround, but I didn't want to do that. So I chose the be true. Those are ways of taking care of myself. Not everybody in my household understands why I have these things, but they delight me, right?
Koren (00:27:23) – Maybe you like pretty coffee mugs or tea cups? What is it that delights you? What is it that is an example of you caring deeply for yourself? And I get it, there are obstacles to giving ourselves the permission to care deeply for ourselves, right? Many of us believe that we're not allowed to, or we believe or have been told that it will cost too much money. I gave a lot of examples of things that don't actually cost money. And I also gave examples of consumer goods that you can go and buy and there's lots of opportunities of how you wanna, you know, do you wanna go to a thrift store? Do you wanna go to, you know, to some lower end store, something that's really expensive? It's about what aligns for you with your values, with your priorities, with your finances. They're all choices. We've also been taught to believe that one day you will be able to do it, but not right now.
Koren (00:28:24) – Right? And I did that belief for a really long time where I was taking care of everybody else. I was working really hard. I was like, okay, one day I'll have time for me. One day I'll have time for me. We need to make time for ourselves, ideally every day, right? And sometimes that may look like five minutes, sometimes that may look like more time. Last Sunday, you know, I had a delightful morning to myself for three or four hours. It was delightful, right? And I hadn't had that in a long time. And I'm not saying that was the reason to have it. I just hadn't had that. And it was so delightful to be with myself. It can take a small amount of time or a large amount of time. You get to choose and determine based on what constraints you have. And we've been told, cuz we've been told that, you know, caring deeply for ourselves takes too much time, but it doesn't have to.
Koren (00:29:16) – What are some of your obstacles? Write them down so you can see them. And then for each of the ones that you have, you can find a way through. You can find a way of overcoming your obstacles. My invitation for you today is to give yourself permission to care deeply for yourself and start your list. Take some of the things that I mentioned here today and continue to add it to your list. And remember, it's an ever-evolving process. What may sound good here may not be as good for you, right? It may. You may go and do and go, Ooh, I didn't really like that. You may try it a few times and still really not like it. That's okay. You get to choose. You get to decide. And often we won't know until we experiment and test it out. This is the part of bringing it to life and making it tangible.
Koren (00:30:12) – This is the beauty. And it's messy, right? It's not the most productive or efficient, but there's the learning and the growth. And this is the all and the wonder, right? That's my invitation for you. So my friend, grant yourself permission to care deeply for yourself. And before I go, remember, I work with leaders, professionals, and entrepreneurs. And if you or someone you know would benefit from working with me to be the leader of your life or to go and create some wins in your life and work or relationships, go to howshereallydoesit.com and click Work with Koren. We'll also have this in the podcast page as well. All right my friend, I'm smelling big for you. Hey there. Before we go, I have a question for you. Have you subscribed to the show yet? This is an awesome opportunity for you to preserve your brain juice.
Koren (00:31:09) – I love the fact that I can subscribe to podcasts and television shows and they go straight to my iPhone or they go straight to my DVR and then I don't have to worry, oh no, especially with television shows, did I hit record? Is it gonna be there or no? Do I have to watch it on demand and go through all the commercials? So go and hit the subscribe button. There's a link in the show notes and that will ensure you that you never miss a show. And you can also save your brain juice for other things in your life. There's way more important things, but you and I will still be connected because the show will be waiting for you on your phone. Go to the link in the show notes and subscribe to the show so you can automatically get all the shows to your phone.
Music – …rowboat on a lake, she is dreaming, she is drifting, never been so wide awake, captured in the moment by the beauty all around her, there's nowhere else than she would rather be…