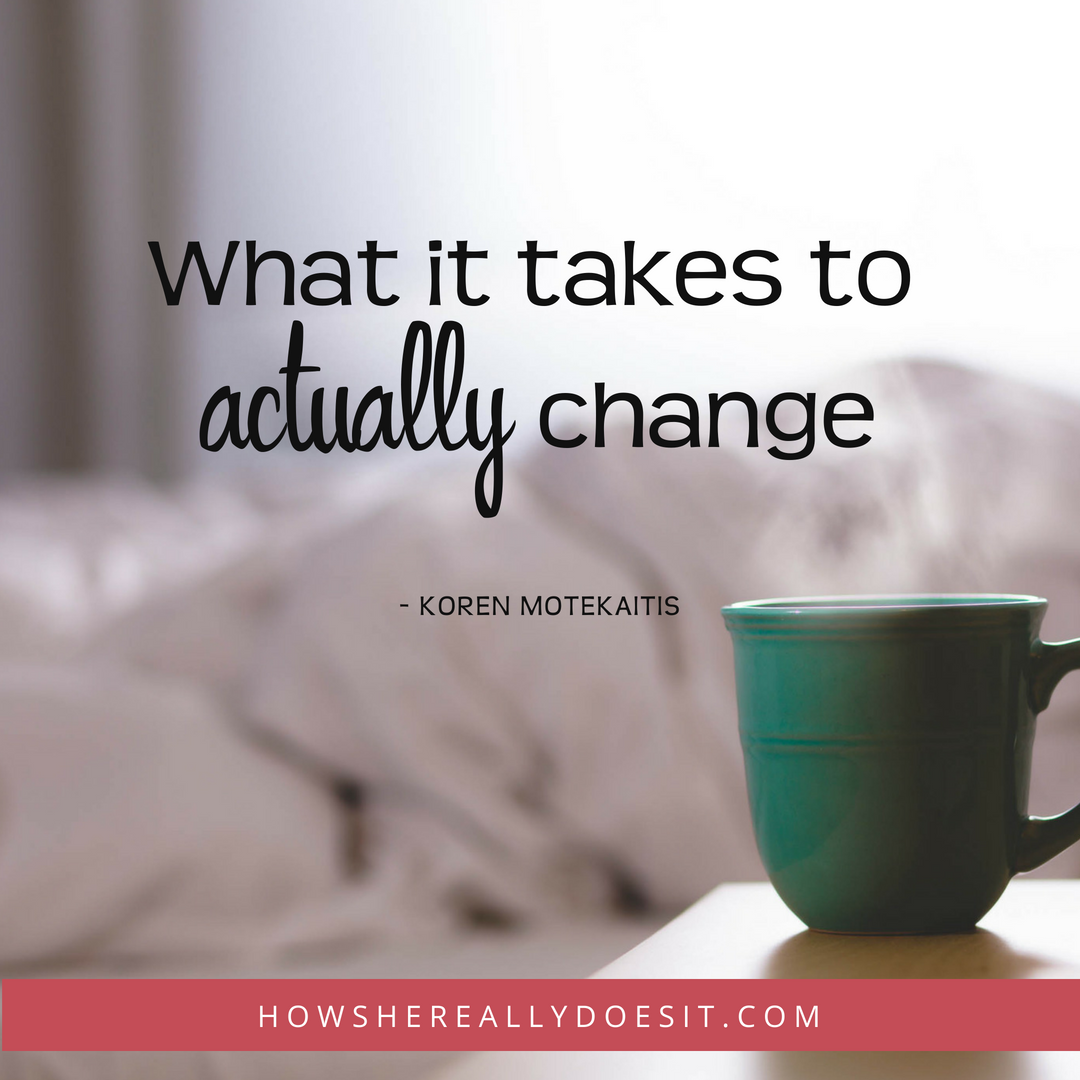 I used to believe change wasn't possible for someone  like me.
Why?
Because I had evidence it wasn't possible. I thought I was working really hard, but I actually wasn't working at all. I bought books, they sat on my nightstand. I wanted to stop overeating, except for my nightly three bowls of ice cream. I talked and talked about wanting change, and so kept story-fondling my way into staying stuck.
I wanted change to be like when the fairy godmother waived her wand and turned Cinderella into a beautiful perfect princess!  Poof and I was changed.
There was one area of my life that I was able to change. My swimming career. How was I able to change myself as an athlete?  
I committed.

I decided I wanted to become a national champion in the 200 fly at the NCAA DIV II championships.

I was deliberate.

When my alarm clock would go off at 5am and I desperately wanted to turn it off and go to sleep, I reminded myself of my commitment, got out of bed and headed for the pool.

I practiced.

I showed up to all the morning practices, afternoon practices and dryland (swimmers' version of strength training). I did extra running and strength practices on my own.  I even practiced visualization to support my goal.

Those three components changed who I was as an athlete. Instead of being on the sidelines watching friends win national titles, I finished in the Top 3 at nationals. Then I applied the same formula of commitment, deliberation and practice to become a national champion, just one year later.
COMMITTED + DELIBERATE + PRACTICE = CHANGE.
When I realized how simple the formula to change was, I started changing everything: my business, my radio show, my personal relationships, my relationship with money, my relationship with my body, and let's not forget, the AquaMonsters.
I focused on one arena at a time and committed to it.  I was deliberate about how I spent my time, energy, mental focus and emotional energy. I practiced each day.  With each of the arenas in my life, I was able to change just by following the formula of PRACTICE + COMMITTED + DELIBERATE = CHANGE.
Are you desperate for change? Are you "trying" to change but actually not changing at all? Here's an experiment: pick an arena and commit to following the change formula for six months.  Stick with it no matter what.
Tell me your story in six months.
smiling,

P.S. If you've been looking for a safe place to grow, a place grounded in compassion, a place to connect with other like minded humans, a place where you belong, apply for my upcoming ENOUGH group coaching program