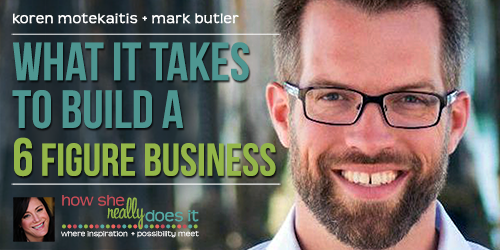 Budget-loving finance nerd Mark Butler returns.
Mark and I discuss what it takes to build a 6 figure business.
"They are better than me."
~Mark Butler, on How She Really Does It
LISTEN HERE
In this conversation we discuss:
"6 Figure" – ugh!
Starting out – focus on "howmuch money do I put toward's progress."
Great question to ask yourself: "how many times do I have to hear the word yes?"
Boundaries + Struggle
Nuts + bolts of what you actually need to do.
"I don't believe in life balance.  Instead I think of it as personal + professional integration."
~ Koren, on How She Really Does It
Mentioned in this Podcast
I appreciate the iTunes reviews.  Thank you!
If you find How She Really Does It makes an impact on your life, please leave a comment or a rating for the show at iTunes.
Your review helps spread the word about the show + is always appreciated by me.
Thanks for listening to How She Really Does It, the place where inspiration + possibility meet.  I so appreciate your emails about the show + it's impact on your life.  I look forward to serving you with this show!
Thanks for Listening!
Mark – I love talking about money. Thank you for the conversation!
smiling,