Peter Walsh, listener favorite has returned to talk about life lessons he has learned on his journey. We talk about dealing with fear on the path to creating your life.
Peter has been a regular guest on The Oprah Winfrey show and is the author of several best selling books, most recently LIGHTEN UP: Love What You Have, Have What You Need, Be Happier with Less. He is currently in production for his second television season of Enough Already! with Peter Walsh on OWN: Oprah Winfrey Network.
We discuss:
Creating the Vision for Your Life
Taking Steps
Doubt
Fear
Connect with Peter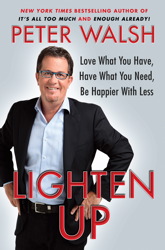 More Interviews with Peter
Sign up for our newsletter to receive upcoming info and newsletter only promotions.
music Christine Kane – Virginia
smiling,