Get Out of Your Head and Find Your Way as Martha Beck returns to How She Realy Does It today.
She is a New York Times bestselling author, "America's best known life coach" according to USA Today and O, The Oprah Magazine columnist.
Martha has a new book coming out at the end of this month Finding Your Way in a Wild New World.
I welcomed having my mentor and teacher Martha Beck here so we ccould discuss how you can get out of your head and find your way in this wild new world.
We discuss:
Four technologies of Magic – Wordlessness, Oneness, Imagination, Forming
Why Magic and what Martha means by it
Wordlessness – why it's an important step in this process.
Goals and Wordlessness
Onesness
Imagination
And examples of Forming
Two takeaways
Connect with Martha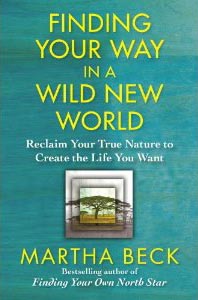 Listen to more interviews with Martha Beck
What did you experience when Martha took us through one of her favorite tools in the interview?  Did you feel your heartbeat?  Did you drop all your other problems, to-do lists?


music Christine Kane – Virginia
smiling,