Amy Block Joy, Ph.D., Nutritional Sciences has worked for the University of California for more than thirty years.  Amy was the director of a $14 million program for poor families.  While at the UC Davis campus, Amy uncovered some embezzlement and that lead her down a road to becoming a whistleblower.  Amy is here today to discuss her journey.
We discussed:
her experience
truth seeker's in an organization
for those considering becoming a whistleblower what she recommends
retaliation
Two takeaways
Connect with Amy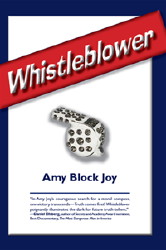 Sign up for my newsletter to receive upcoming info, each show's takeaway and newsletter only promotions.
music Christine Kane – Virginia
smiling,