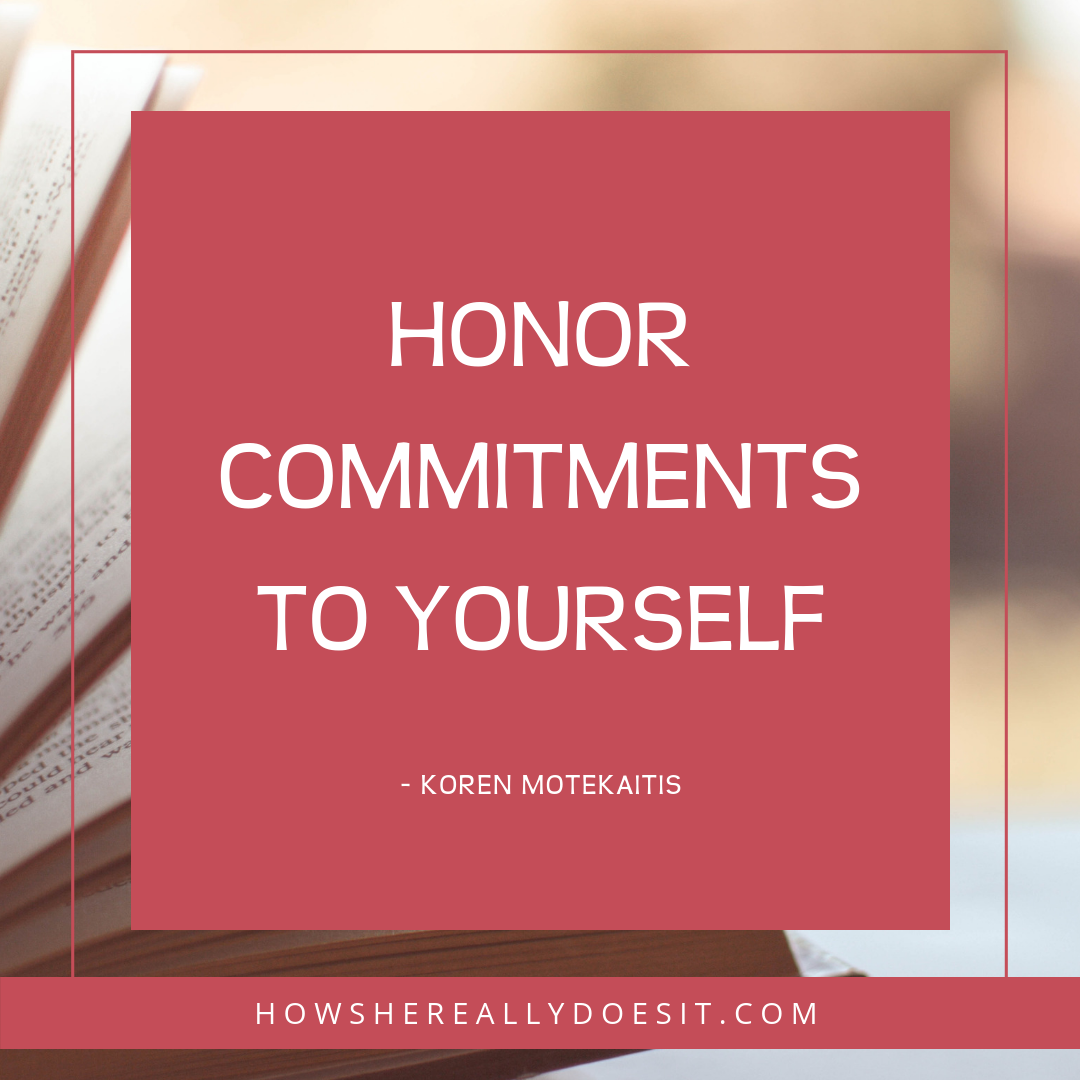 The idea of honoring commitments to yourself probably sounds brilliant, or completely ridiculous.
Brilliant because when you honor commitments to yourself, you are taking care of yourself. You are getting stuff done. You are proud of yourself.
Ridiculous because if you suck at honoring commitments to yourself you have a long list of reasons how this is NOT possible. There are just so many obstacles in your way. Demanding boss, family priorities, and your own belief that taking care of yourself is selfish.
That used to be me. I used to believe I was selfish to take care of myself. I was never on my own schedule. I let the demands of other people – boss, kids, husband, friends, those damn emails – be more important than any commitment I had for myself.  After many years of waiting for someone to give me permission for my turn, I realized it was time to honor commitments to myself NOW and stop waiting.
I started with small steps:
Doing my workout first thing in the morning before anyone else could place demands on me.

Giving myself permission to NOT answer emails in the evening when I would get home from coaching swim team. This was time to be with my family or be with myself at the end of my day.

Creating white space to get personal stuff done or to schlump around and get nothing done.

Reading books for my own pleasure or personal growth.

Blocking out creative time on my calendar during work hours instead of doing those projects late at night or on the weekends.

Blocking out time on the weekends for NO work.
While I have developed a practice of honoring commitments to myself now, I am not perfect at always following through. I can easily distract myself with emails when the time comes to do creative work. I can choose to stay in bed and not go workout. But over the years, the amount of times that I stick to it has increased dramatically.
The other thing I've noticed is that when I honor commitments to myself, I am able to honor my commitments to other people so much more! Funny how that works. We believe that honoring commitments to ourselves is selfish and makes us unavailable to others. Yet it has the exact opposite effect. Only when we honor commitments to ourselves we have the ability to truly honor commitments to other people.
Do you believe honoring commitments to yourself is a fantastic way of living your life? Or do you believe it is ridiculous.  Comment below and let me know.
smiling,

P.S. Need structure to honor commitments to yourself? Try this journal resource: The Mindset Journal