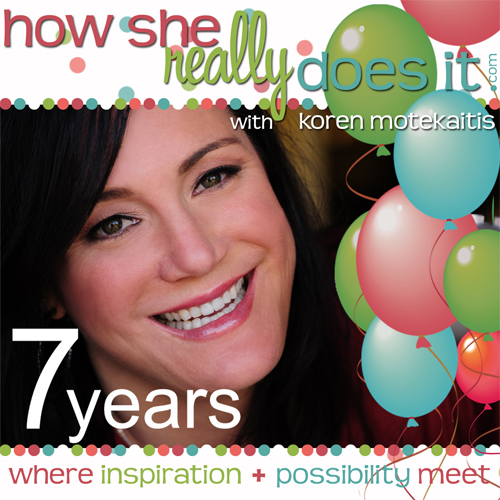 Happy 7th Anniversary to us!!!  How She Really Does It has been on the airwaves + traveling the internet since October 2006.  Wow!
What started out as a small inner quest has grown into a life changing event.  Thank you for being a part of this incredible journey.  Starting out 7 years ago, I never imagined that I would have the opportunities to talk with so many incredible people and that I would actually be able to fill up the airwaves with something useful.
My friend and mompreneur Loran was my first guest.  Big reason ~ I knew that we could fill up the 30 minutes (that is how long the show used to be) and at least the two of us would have fun.  We did and it started something great here.
I could not have started the show without the great support of friends who cheered me on, found me guests, and came on as guests.  While I was scared to death to do this radio thing and LIVE, they were so excited that it helped me shelve my own fear.  They also helped share and broadcast my show to others as I sat back hiding in fear of judgement of others.
I am so grateful for the support + guidance of the KDRT staff as they kept this show going through the years with technical support and unconditional support.  Never a harsh word.  Yes people like this do really exist.
Back in the Spring of 2006 I was seeking a radio show that could give me answers to help me with my life.  Instead I was given a good kick in the pants by my friend and KDRT founder + executive director Autumn to create it myself.  Well I found answers no doubt during these 7 years on the air.  It has not been an easy journey.  More like one filled with lots of self-doubt and uncertainty.  But it has so been worth it and I have definitely evolved as I have learned more in these 7 years than all of my formal education from K-grad school.
So thank you for listening to my show, sharing it with others and especially emailing me.  On show days when I sit in the dark studio with me and the mic, not ever knowing if a soul will listen it is so heartwarming to receive emails from you.  To have listeners world wide is humbling.
Synchronicities happen in life and this week's interview is more evidence of that.  A few years ago I received a thank you card from one of my clients.  They saw the card and it reminded them of the work we did together.
The next week, the same card came in the mail from another client.  I am a bit dense at times, but when I get the message twice, okay sometimes it takes three times, I start to pay attention and stop my busy life.  I googled this artist and OMG.  Her work spoke to me.  I have never been very fond of art, photos yes, but not so much art.  I instantly fell in love.
Soon more cards and then art work followed.  My clients started sending me pieces of this artist's work.  Wow.  My clients did not know that I had declared Kelly Rae Roberts as my favorite artist.
Since that first card arrived in my mailbox many years ago I have now had the great fortune of meeting Kelly Rae Roberts and this week she was a guest on my show.  How perfect for her to be on my show.  She too started her creative business 7 years ago this month.
We both faced so much unknowing 7 years ago. What we were doing did not make sense.  But we kept moving forward small step by small step.  I believe our journeys into art + radio are examples of being brave in our lives. Yes we were scared, yes we believed we were impostors, yes we had no formal training.  But we did it.  If this is possible for us, what is possible for you?I do hope you will join us as you hear us discuss how to have trust + faith while struggling with doubt + uncertainty to create your right life for YOU!
smiling,
Koren
P.S.  I like the dark studio to talk to my guests over the phone.  I forget about everyone else and focus on connecting with my guest.  Through the years this technique helped the shy little girl in me overcome my fear of the potential haters that would have stopped me from ever doing this show.