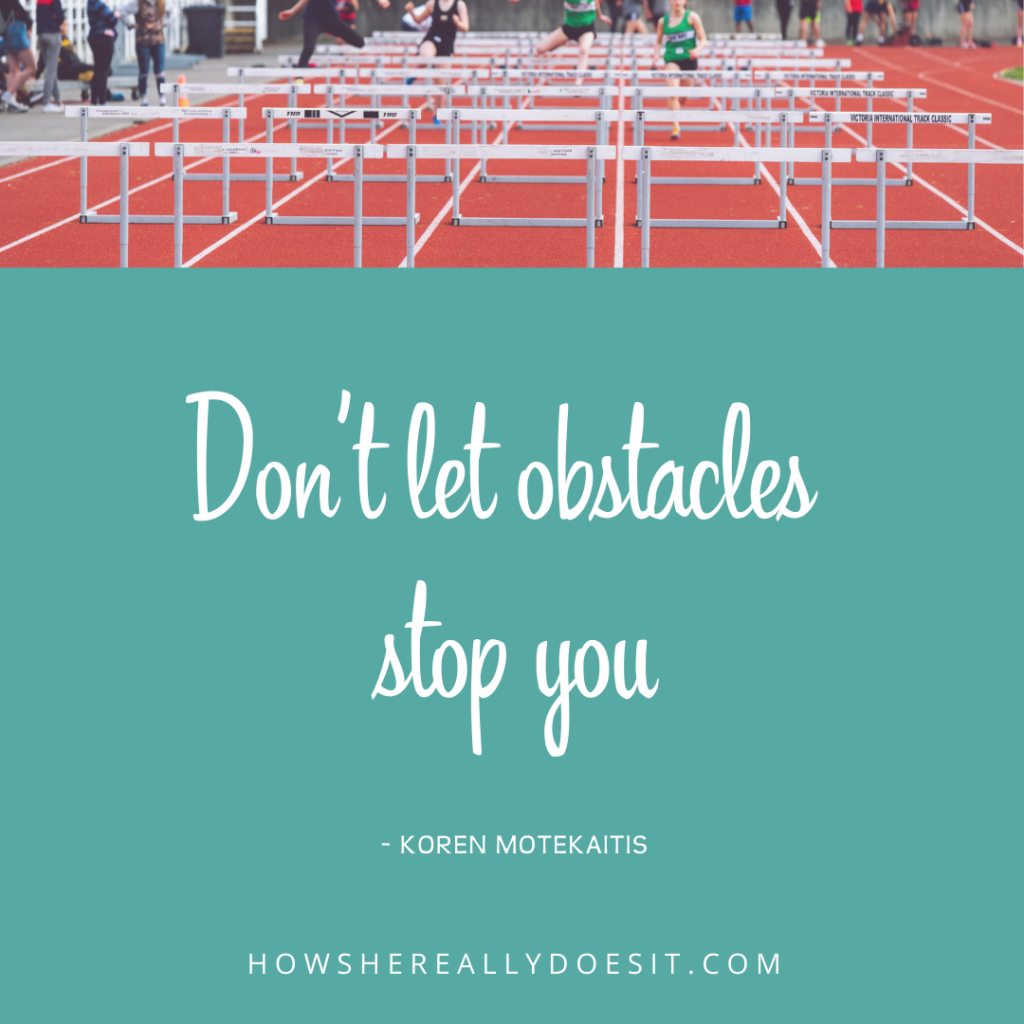 I used to think an obstacle meant "this is not possible for me."
Obstacles used to be my dream killers.
Now I realize obstacles are something to overcome.
Obstacles are the pathway to achieving what my heart desires.
As I solve each obstacle I learn, grow, become resilient + move towards my goal.
However, this is not a straight line.
In fact, overcoming obstacles can be messy and not time efficient.
Hence, the reason I used to make obstacles mean "my goal is not possible for me."
You see, I believed obtaining my goal would be time efficient "if I was doing it right."
My friend, let's get one thing straight … obstacles are everywhere and do take up time.
This has nothing to do with you doing it wrong … it has to do with what it really takes to achieve your goal.
We just never figured that obstacles would be part of the journey towards obtaining your goal.
The next time you set a goal… know there will be obstacles.
I used to foolishly set a goal and get super duper excited about my goal and all the good that would come from obtaining it.
I forgot one thing. I didn't plan for the obstacles that would surely arise.
So when they did, I quit.
They weren't part of the plan.
Therefore I made it mean, this goal couldn't happen for someone like me.
What I know for sure these days, obstacles are part of the path to achieving your goals.
Now when I decide on a goal, I also brainstorm what potential obstacles will arise.
I mentally prepare myself by reminding myself of my truth.
"I'm resourceful."
"I can figure things out."
"Of course this is happening."
"I've got this!"
"I might not be able to see it YET … but this is the best thing for me."
I'm glad I'm persistent."
The next time you come upon an obstacle understand this is a part of the process.
Remind yourself this obstacle does not mean anything about you.
Feel free to use one of my beliefs to help you overcome your obstacle.
You've got this!
smiling,

P.S. Create new beliefs with my Mindset Journal. Get yours here.