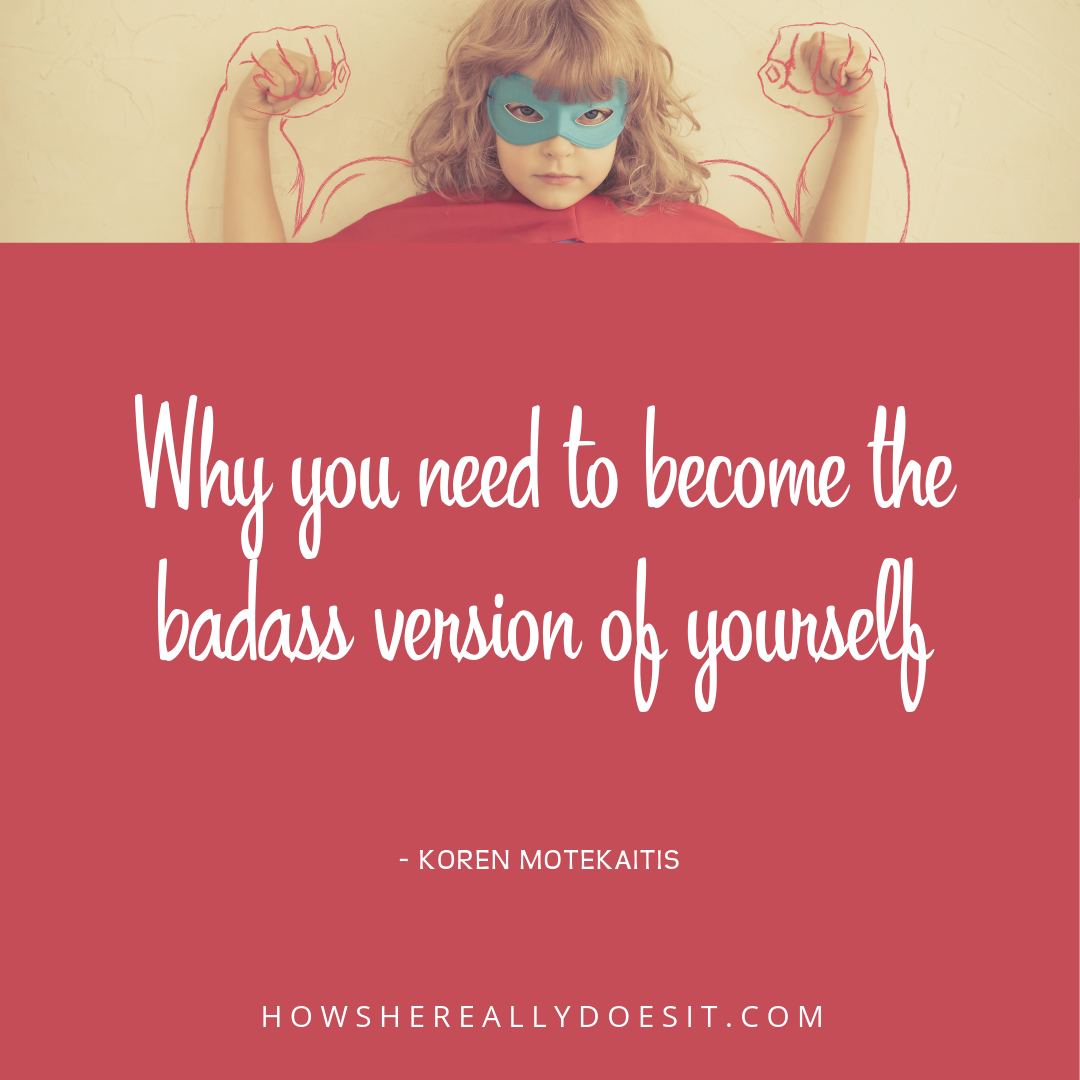 Recently while talking to someone … they asked me about the connection between being ENOUGH and being a BADASS version of YOU …
He believed "being ENOUGH was settling. Instead of settling shouldn't we do more?"
That's always the answer for an overachiever. Do more, do more, do more.
The problem … doing more is from a place of not ENOUGH and will lead you to exhaustion.  You'll never view yourself as having accomplished anything. Instead of doing more leading to confidence … it actually leads to more not ENOUGH.
Instead, when you are ENOUGH you show up as your badass self. 
Let's go back to where we are rooted.  When you are rooted in shame (not ENOUGH) how do you show up?
Insecure

Lacking confidence

Don't trust yourself

Desperate

Fearful

Filled with self-hatred and self-loathing

YOU WANT TO QUIT
Feeling shame is not pleasant, so you try desperately to disconnect from this horrendous feeling in one of three ways below:
You hide away, disconnect + numb.

You approval whore.

You seek the approval of others to validate yourself. Unfortunately this feeling only lasts as long as eating 3 bowls of ice cream does. Then, like eating that ice cream, you feel horrible afterwards because you've totally sold yourself out.

You gladiate. 
You're most excellent at inner gladiating. This is where your highly self-critical, full of self-loathing and self-hatred. You say the meanest things to yourself. Things you would never say to your best friend.

You also gladiate onto others. This is usually to people who are safest for you, your loved ones, the ones who you know will be here tomorrow regardless of your poor behavior. You blame them, you criticize, you puff up and attack them.
I ask you … does this sound like the pathway to becoming the BADASS version of YOU?
NO! 
I agree with you.
So we need to get to ENOUGHness.  I know. I know. Our community is filled with OVER-Achievers.
We've been programmed to believe that we need to work harder … do more … dial it up … go extreme to get the results.
So you may mistakenly believe ENOUGH is still not ENOUGH. The irony.
But actually when you are rooted in ENOUGH … THINK ABOUT HOW YOU SHOW UP IN YOUR LIFE
SECURE

CONFIDENT

TRUST YOURSELF SO YOU CAN TRUST OTHERS

YOU HAVE PERSPECTIVE – instead of making decisions based on shame + fear

YOU SEE THE BEAUTY IN YOUR LIFE.

YOU ARE FOCUSED 

YOU ARE PRESENT 

YOU ARE ENJOYING
All you need to be is ENOUGH. When you are ENOUGH you fully show up as your BADASS SELF.
Are you ready to find your inner badass? Click here to apply for coaching
smiling,