A digital course for people who are ready to leave their internal chaos behind and start handling both everyday tasks and extraordinary situations with clarity and confidence. It's time to ask yourself, what is SELF-DOUBT costing you?
➤ You are in constant chaos about your schedule. Your to-do list is endless and you can never get on top of it
➤ You struggle making decisions or worrying that you made the wrong decision
➤ You aren't confident in social situations, you feel like you're always trying to make connections but you also feel sick of faking it
➤ You have guilt about spending money on what you want, even though you have the money.
➤ You are always reacting to people in your life -- your kids, coworkers, family, partner -- instead of being proactive about your needs and wants, and having boundaries
➤ You find yourself constantly soothing with food, booze, TV and shopping to unwind at the end of the day 
➤ All your best intentions -- to work out more, to meditate, to get sleep, to make deeper friendships, to pursue creative goals -- never seem to happen.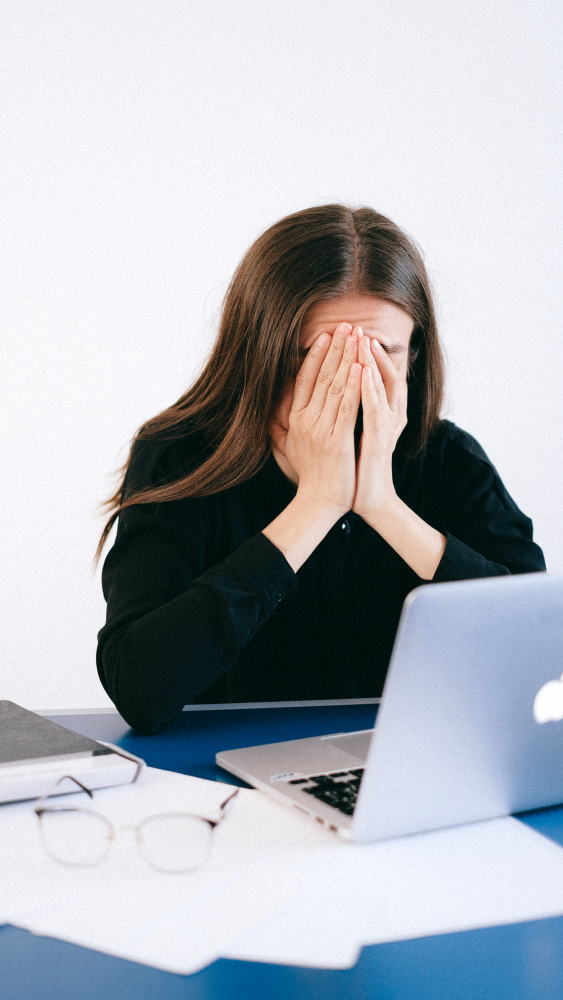 Now, imagine this.
 
Imagine yourself in a really stressful situation. You open your credit card bill. Your boss is upset with you. Your child is struggling academically or emotionally. A friend says something that hurts your feelings. You get a scary health diagnosis. 
How would you normally deal with that? Overwhelming emotions? Tuning out and watching Netflix? Feeling horrible about yourself and being too ashamed to ask for support? Going down a spiral of distress and anxiety thinking about the future? Binge eating comfort foods or cracking open a bottle of wine? 
What if, instead, you could ground yourself in confidence? 
What if your response was to take a deep breath and remind yourself: 
I can figure things out.
I can ask for help.
I don't have to solve every problem.
I am resourceful.
I can do hard things.
I will get through this.
I can feel painful feelings and also experience good feelings.
Sounds pretty good, right? 
I'm here to tell you, this is POSSIBLE for you.
Introducing Grounded Confidence
4 weeks to a calmer, more confident you
"Working with Koren has been the best decision I've made in my life.  She gave me the tools to work through leaving an unhappy marriage of 25 yrs, change jobs, redefine my relationship with my grown children, and learn how to take care of ME."
~ Carol, United States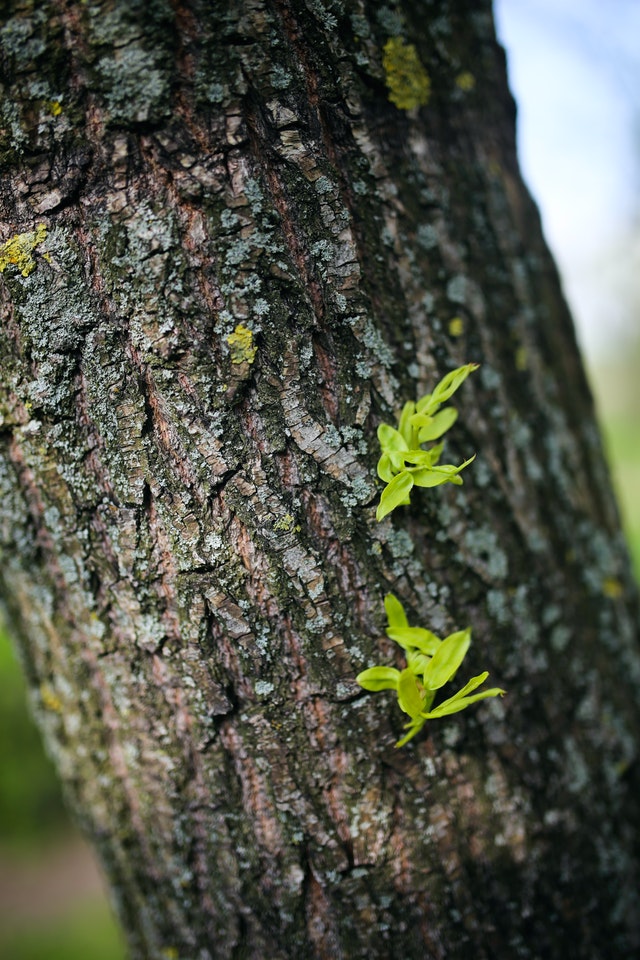 What is grounded confidence? 
"The ability to be
self-aware of your thoughts and feelings
so you can make decisions
with clarity and alignment
with your values."
Grounded confidence is that feeling you get when a problem is in front of you and you think, "I got this." 
You know how to take the step forward. 
You know what decision to make. 
You're clear.
Enjoy your life without Netflix being your only source of happiness
✦ Get clear on what you want, without all the anxiety and insecurity and doubt that normally clouds your vision
✦ Align your spending and schedule with your values and what you care the most about. 
✦ Quickly and calmly make decision without getting stuck in analysis paralysis
✦ All those health goals you've set for yourself? Actually make consistent progress on them without it becoming a huge burden
✦ Stop faking in social situations or clinging on to relationships that you know are holding you back
✦ Set boundaries with people in your life, and start getting your needs met without a lot of drama
✦ Start actually feeling, identifying and dealing with your emotions. Stop soothing with food, booze, TV and shopping.
✦ Have a new way of being in stressful situations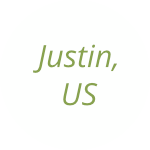 ~ Justin, United States​​
I'm Koren Motekaitis,

a Master Certified Life + Leadership coach and host of the popular podcast How She Really Does It.

I've coached hundreds of people on becoming confident and grounded so they can move through the chaos and disruptions of life with ease and focus.  This allows them to stop paying the HUGE price of self-doubt.

I've also witnessed this transformation in my own life. Before I had Grounded Confidence, I never felt good enough, so I was always overworking to prove my worthiness. Now that I've learned to be confident, I can make decisions quickly, create the relationships I want and move through life's speed bumps with ease and agility.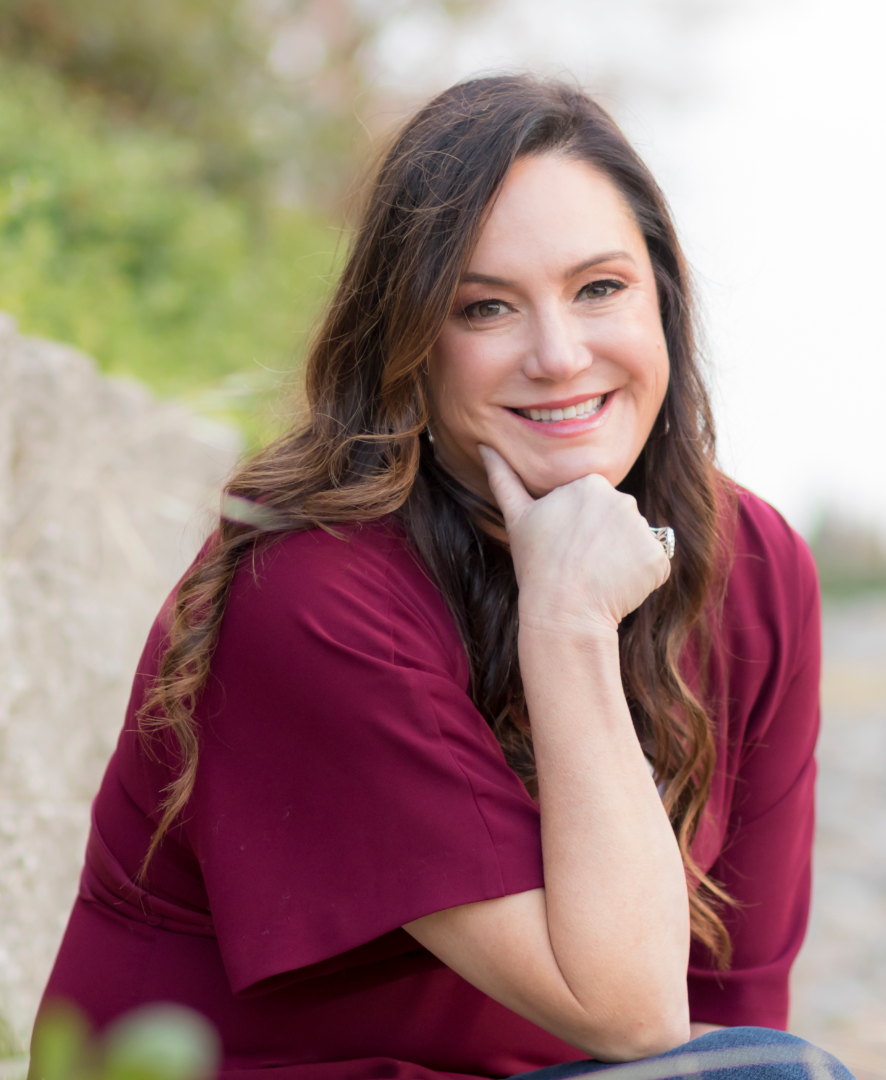 The difference between confidence and arrogance
| Arrogance | Confidence |
| --- | --- |
| Feeling like you have all the answers | Knowing you don't need all the answers |
| 🡳 | 🡳 |
| Terrified of being seen as a fraud | Clear on strengths and weaknesses |
| 🡳 | 🡳 |
| Reluctant to try new things | Willing to try new situations |
| 🡳 | 🡳 |
| Desperate for approval | Rooted in self acceptance |
| 🡳 | 🡳 |
| Craves power and status | Understands that power is an inside job |
| 🡳 | 🡳 |
| Struggles to be vulnerable, sees vulnerability as a sign of weakness | Has learned the skill of vulnerability and practices it regularly |
Are you ready to choose grounded confidence?
We often think that in order to be confident, we need to DO more or SUCCEED more or HAVE more. We tell ourselves that if we were rich, we'd be confident. Or if we were more successful, we'd be confident. That's just not true. Confidence is a mindset. We choose it, we don't "earn" it.
Why this course is different:
✔ Science-based exercises that I've personally used to coach hundreds of people from stuck to confident and clear 
✔ No extra fluff. I don't have time for it, neither do you. Let's get to the heart of the matter.  
✔ Practical. I'm going to take concepts like "self-love" and "authenticity" and "emotional fluency" and break them down step-by-step so you understand how your day-to-day life could change.
✔ I give you the tools you need to make decisions without all the drama and back-and-forth
✔ Instead of dealing with personal and professional struggles separately, I show you how it's ALL intertwined and until you deal with your baggage, it's going to show up EVERYWHERE.
What you get when you purchase Grounded Confidence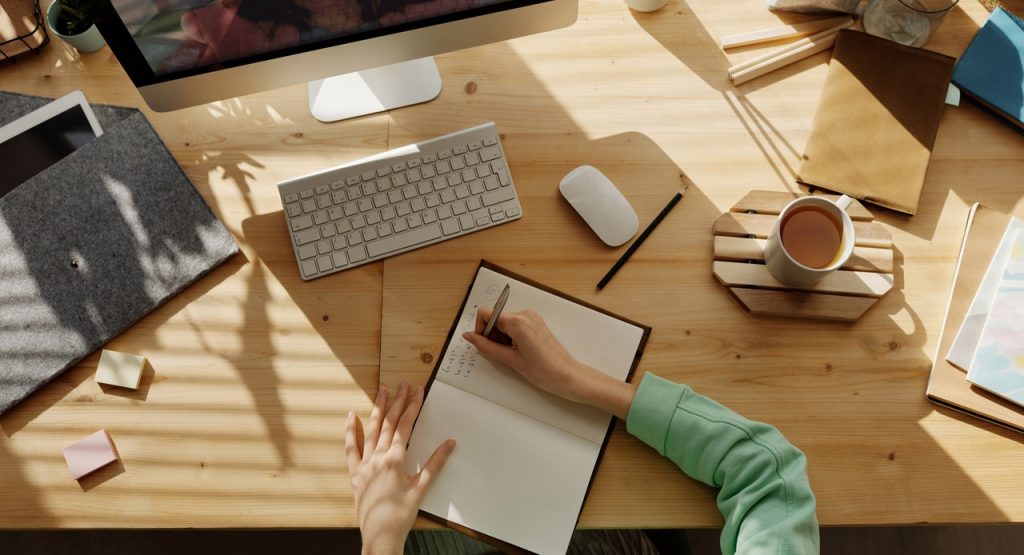 Lifetime access to my four module digital course, Grounded Confidence.
Go through the materials at your own pace.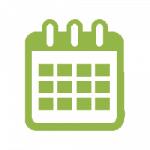 Not just another thing to sit on your to-do list. Your life could be transformed in 4 weeks.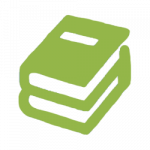 Easy to understand material. No fluff. No B.S. Just straight to what you need.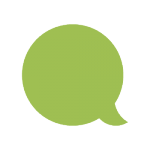 The space to create sustainable changes in your life.
Grounded Confidence - $497
4 Module Digital Course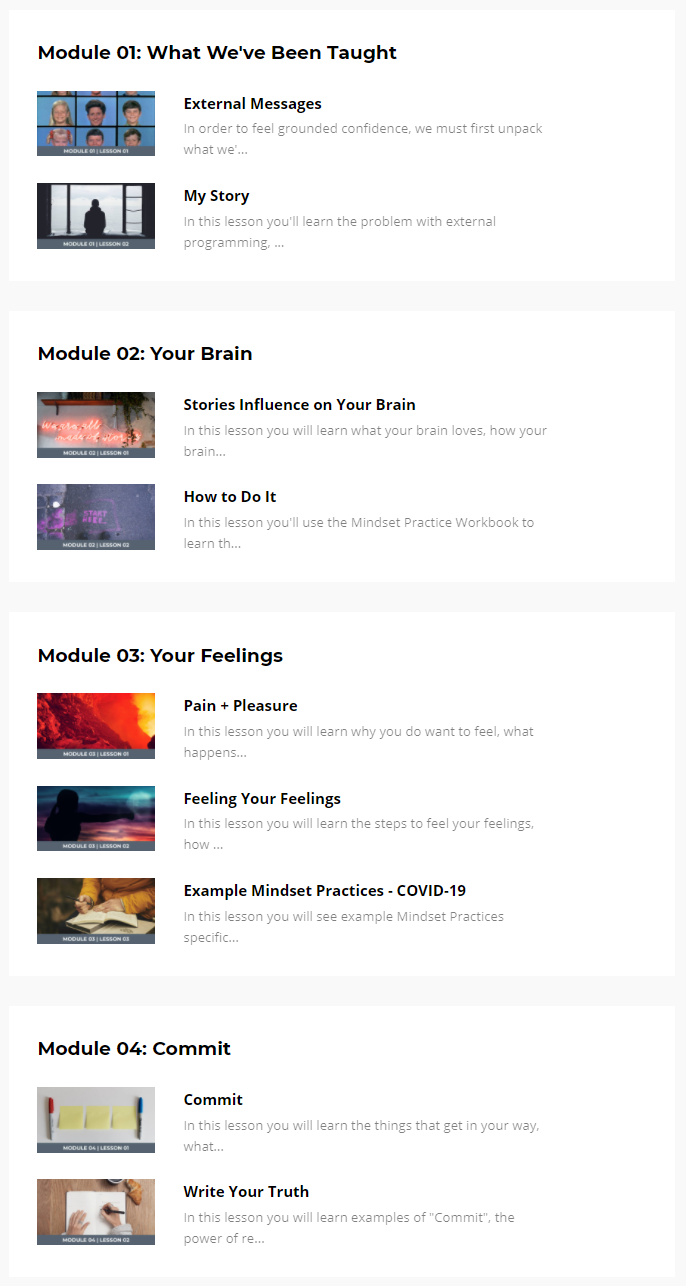 What's inside the digital course
Introduction and Resources
Module 01 - What We've Been Taught
✦
External Messages 
✦
My Story 
Module 02 - Your Brain
✦
Stories Influence on Your Brain
✦
How to Do It
Module 03 - Your Feelings
✦
Pain + Pleasure
✦
Feeling Your Feelings
✦
Example Mindset Practices - COVID-19
Module 04 - Final Step
✦ Commit
✦
Write Your Truth
Bonus Module - Dial up Grounded Confidence
REDISCOVER YOUR JOY LIKE KATE
"I finally know what joy feels like. I have much less stuff (75% less) and I am sleeping much more. I am spending my days in the present! Not rehashing old family dramas. Not speaking to family members that were draining me. Finding that I am less triggered and less judgemental. My days are more productive." 
GROW YOUR BUSINESS LIKE MIRIAM
"I passed my previous high-water mark for earnings. I decline work all the time without negative repercussions. The more I stand my ground and believe in my own abilities, the more the market values me. I now understand that my mental energy and outlook determine ~80% of my revenue and ~80% of my suffering. So much is in my own hands."
The high price of self-doubt
Self-doubt is the most TOXIC force that nobody is TALKING about. It's the reason you don't hit send on that scary email request. It's the reason you keep going to that book club you don't even like. It's the reason you keep buying the gym equipment but you never actually work out. It's why you struggle in your relationships. Or settle for friendships and partners who don't check off your boxes for healthy, loving behavior. 
Until you face your self-doubt and learn the skills of confidence and clarity, you are going to struggle making progress with health, money, career, relationships and personal growth. 
So roll up that yoga mat, and put down that self-help book. If you want to live a more joyful life, grounded confidence is STEP ONE.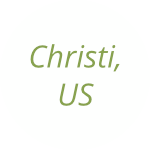 "What I've gained in working with Koren has been invaluable and changed my life."
~ Christi, United States
Q & A
Will this course work? 

Yes this is a proven practice Koren uses herself and with her private and group coaching clients. It's life changing and has given them the ability to soar during 2020!

Plus, you'll be backed by a RISK-FREE 7 - Day Guarantee. Full details here >>
I'm overwhelmed and don't have time for more.

 

The digital course is specifically designed to not overwhelm you.  It will take you under two hours to get through the entire course.

Less time than a movie!

I've gotten rid of all fluff and you only get exactly what you need. 

The digital course is effective because it gets to the root issue.
 

When I join Grounded Confidence, will I be getting immediate access to all the lessons and modules?

Immediately upon signing up you'll receive direct login access to the entire digital course so you can get started immediately.