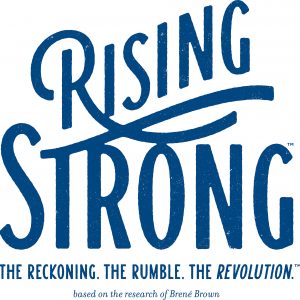 – You've fallen down, I am here to help you back up!
"You can do everything right. You can cheer yourself on, have all the support you can find in place and be 100% ready to go and still fail. It happens to writers, artists, entrepreneurs, professional, teachers – you name it. But if you can look back during your rumble and see that you didn't hold back, that you were all in, you will feel very different than someone who didn't fully show up. You may have to deal with failure but you won't have to wrestle with the same level of shame that we experience when our efforts were half-hearted."
~ Brene Brown
You have all the trappings of a successful, fulfilling life – impressive job titles, multiple diplomas world travel, a beautiful home – but you feel like a fraud. Underneath it all, you worry there's something wrong with you and you've worked tirelessly to cover it up.
You are not alone in feeling this way. And more importantly, there isn't anything wrong with you.
But because of how you're wired, you need skills and tools to cope with those relentless worries.
You are ready for change. You realize awareness is key. You want to learn how to differentiate between the facts and the stories your mind tells you. You want to unpack your feelings of shame and decide how to deal with them. You want to open yourself up to the reality that you are lovable and worthy. And above all, you want to believe that you – like everyone – will fall down but you will rise back up again.
Rising Strong™ is about falling down and getting back up. This program will awaken your curiosity about emotions, expand your self-awareness, and develop your ability to articulate.
You will practice
Believing in yourself + owning your achievements
Creating awareness + understanding of your emotions.
Trusting yourself to learn from setbacks and stumbling blocks
You will learn
To get back up after you have fallen.
To write a brave new chapter in your life.
To ask for help when you need it, and receive help.
Rising Strong™ will help you own your stories of disappointment, failure and heartbreak, and prove that doing so gives you the power to write a daring new ending.
Rising Strong™ Intensive Coaching Package
One year of coaching – The Partnership
Three intensives covering the Rising Strong™ curriculum
33 sessions over 12 months to integrate Rising Strong™ into your life
Payment options
$1150/month for 12 months
3 payments of $4350
pay in full $12,500 (savings of $1300)
Rising Strong client testimonials
"The Daring Way work came about once I was ready to grow and be empowered in my own life.  This Rising Strong work has taught me resilience.
When we started working together I didn't believe in my own self worth, I didn't believe I was worthy of love and belonging just because I am.  I deeply, deeply felt that I had to prove myself and be "better" and more "perfect" before I would be worthy; I did not believe I was worthy as I was.  It's been a long journey; it did not happen over night by any stretch of the imagination, but bit by bit I have come to realize that I am worthy of love and belonging right now, right as I am.  This knowing is a direct result of the work we do together."
~ Nicole, Washington
SaveSave